Adder CUSBEXT100-UK Adder Single port USB 2.0 High speed UTP USB Extender - tech m icrOn ( 100Mtr Range USB 2.0 C-USB EXTENDER ONLY )
CUSB-EXT100-UK pi17 Original body version pictured. The new version is as the thumbnail picture and as seen in the setup picture below.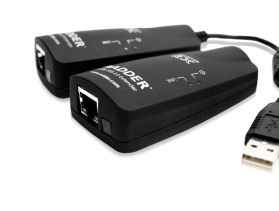 Description:
Adder CUSB-EXT100-UK USB 2.0 Hi-Speed Extender System. USB UTP Extender The Adder CUSB-100 ( USB ONLY ) extends USB 2.0 beyond the desktop up to 100 m over standard Cat 5 cable using Fast USB Supporting USB 2.0 high-speed and USB 1.1 (low- ASpeed, full speed) devices. The Adder CUSB-100 system includes a Local Extender (Local ) module, a Remote Extender (Remote) module, and power adapter. Suitable for • Automotive Telematics • KVM Extension • Digital Signage • Remote Desktop USB Connections • Home Network Integration • Security: web camera, access control. • Industrial Control • USB Device Sharing: print, scan, storage.
Features:
• HIGH Speed USB 2.0 Only Extender
• Plug and play, and ready to operate right out of the box. No new driver installation required.
• Ideal for I/O devices, printers, scanners, web cams, hard drives, flash drives and mp3 players
• Supports USB 2.0 high-speed and USB 1.1 (low-speed, full speed) devices
• Operates with USB 2.0 high-speed host controllers and USB 1.1 classic hosts
• Supports all major operating systems including Windows ฎ, Mac OSฎ, and Linuxฎ,
• Bus powered local unit at computer. A/C power at remote unit provides standard 500mA at USB
• Single port USB extender. Number of devices can be increased using standard USB hubs

New style casing style of unit and general setup picture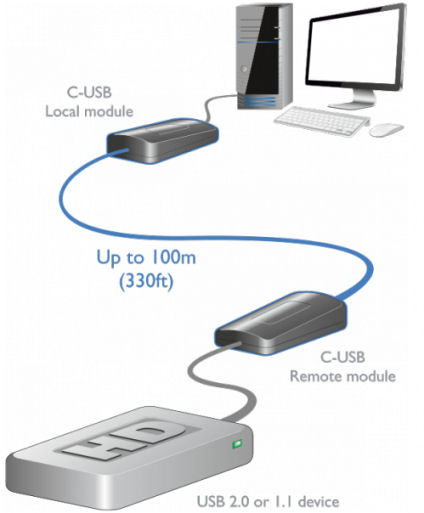 Specification:
The Adder CUSB-100 system is a USB ONLY - High Speed usb 2.0 Extender set which includes a Local Extender unit, a Remote Extender dongle style unit, and power adapter.

Range
100 m (330 ft) over Cat 5 (CAT6/6a/7) cable
Local unit USB connector 1 x USB Type A - 6" captivated cable
Local unit Link connector 1 x RJ45
Remote unit Link connector 1 x RJ45
Remote unit USB connector 1 x USB Type A
Power adapter Maximum Rating 5V DC @ 1.5A
Current available to USB at Remote end 500 mA
Local unit dimensions 44 mm x 87 mm x 24 mm (1.72" x 3.43" x 0.85")
Remote unit dimensions 44 mm x 87 mm x 24 mm (1.72" x 3.43" x 0.85")
Total system shipping weight 0.5 kilograms (1.1 lbs.)
Operating temperature range 0ฐC to 50ฐC
Regulatory testing FCC, CE Class A
ESD Rating EMC EN-61000-4-2 4kV Contact, 8kV Air
Specifications subject to change without notification