Free! UK Delivery for all orders over £85. Shop here

Sales tel: 0345 899 5010
KVM Choice: Cables

Video Cables, Control, KVM Cables, USB, Network / CAT Cables, Power, all to suit your needs.
Video Cables:
By Type: Copper (Standard)
HDMI (Black) HDMI (UHD) HDMI Ultra (Premium)
By Type: Fibre (Active Optical HDMI)
HDMI (AOC) HyperLight! 4K AOC AOC - 4K 60Htz Industrial
---
By Type: All 4K
DP to DP 4K DP (Ultra High Res 4K) DP 8K 60Htz (AOC)
---
By Type:
DVI-I (Dual Link) DVI-D (Dual Link) DVI-D to HDMI DVI-I to VGA
Dual Link DataRate max 9.9/7.92 Gbits 2560X1600 | Single Link DataRate max 4.95/3.96 Gbits 1920X1200
DVI-I (Dual Link) Used to connect KVM Switches supporting DVI & VGA Computers to DVI-I Monitor
---
By Type:
SVGA (Male to Male) SVGA (Male to Female) DVI-A to SVGA
Conversion adaptor cables from DisplayPort source
DP to HDMI DP to DVI DP to SVGA
Reverse direction is a different active conversion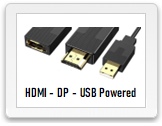 HDMI to DP - (Active conversion required)
---
KVM Cable kits ( Easy cable sets for kvm combo switch ports )
By Type: Includes 2x & 4x kits
DVI-D & USB HDMI & USB Display Port & USB
DVI-I & USB VGA & USB VGA & PS2
Control Cables:

USB Cables and Accessories
| | |
| --- | --- |
| | Including converters, splitters, mice, keyboards, adaptors, extenders, switches and so much more... |
PS/2 Cables & Adaptors
PS/2 Adaptors & Accessories

Special offer prices on for different brands, including manufacturer clearance
---
KVM ( All in one ) Cables


A huge range of cables designed for KVM Switches and equipment, with a range of brands, types and styles to choose from the choice really is yours. Including: VGA, PS/2, DVI-D, DVI-I, DP, HDMI, USB requirements and so many more options. A single cable can connect your KVM to all your devices.
Manufacturer's own KVM Cables: Adder | Aten | Raritan | Austin Hughes | Rose | Fujitsu | DVIGear
---
Network Cables:
By Colour: (In Stock ready to ship):
Custom Cables Available* (Contact Us.)
---
By Colour:
Why choose CAT6 ?
+ CAT6 offers the fastest internet & data transfer speeds.

(Supports 1000Mbps "gigabit" speeds).

+ CAT6 also reduces 'crosstalk' with additional shielding.

(Significantly Lowers Interference).
CAT6A (LSOH)

High performance cables suitable for Network 10G and AV Performance Digital KVM systems use
---
Power Cables:
Power Cables (IEC 60320)
- Very common on personal computers and peripherals. Commonly referred to as a "kettle cord" (10A)

- Common on Enterprise-class servers and datacenter rack-mounted power distribution units (16A)

- 10A C13 Socket to C20 Plug IEC 320

' PDU, Breaker box or UPS '

- IEC C20 16A Connector (Black)

' Assembled Screw fit '

Also See: IEC LOCK Cables

Locking connection power cables
Industrial 309 Commando Power Cables (IEC 60309)
| | |
| --- | --- |
| - Marketed under Commando for industrial purposes, specifies general functional and safety requirements (1PH / Blue) | - Marketed under Commando for industrial purposes, has 3 positive terminal's and is rated at 400 volts (3PH / Red) |
In need of something different? Checkout: PatchSee (CAT6 with Fibre Optic Identification)

CALL FOR DETAILS BULK PRICING SUPPLY AND PRICES
Not found what you're looking for? 'Click here' (View our full range of cables) | Assistance and Guidance available call: 0345 899 5010