Free! UK Delivery for all orders over £85. Shop here

Sales tel: 0345 899 5010
AV Choice
Total Control in AV: Broadcasting, Control Room, Meeting Room, Medical, Classroom...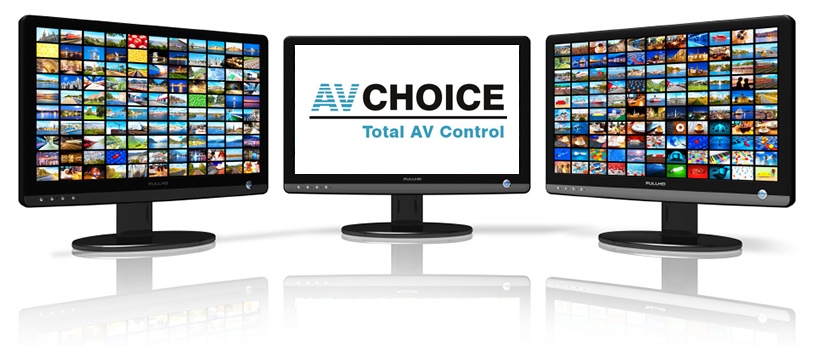 AV Solutions, For all your Audio/Visual, Putting you in control
Call us now for Quotes: +44 (0)345 8995010
AV is moving into the Digital world and now blends into the computer control area. However the big difference is the interest area of the communications. This AV Choice Section brings you an easier navigation to the parts that we feel are particularly interesting for the AV sector concentrating on the highest quality VIDEO and AUDIO signals for distribution, conversion matrix control and more. With our technical networking specialist availble to assist you complex solutions can be made easy, manageable and secure.

Meeting Room / Conference Room
(Video Matrix & Control System Solutions)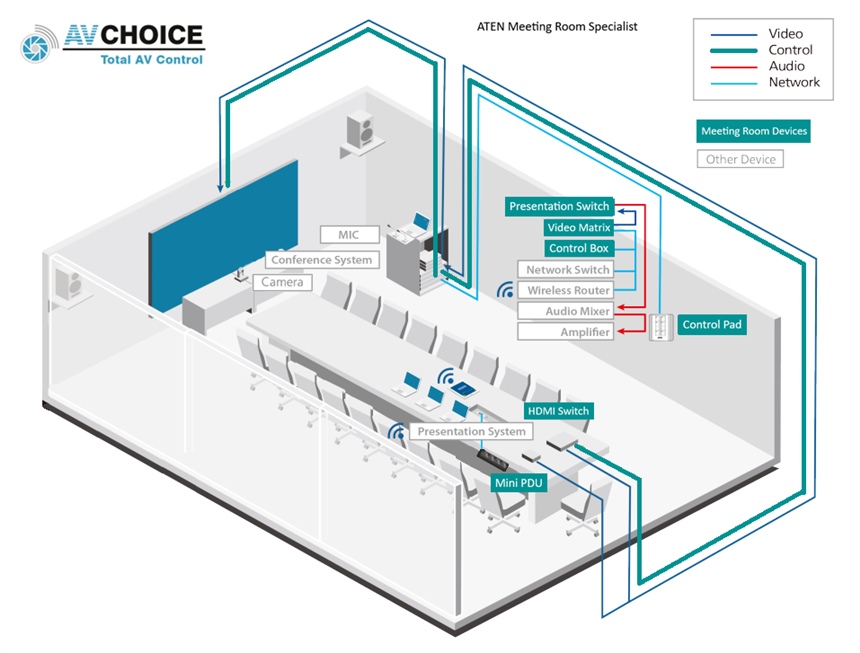 Video Presentation Switches & Other Control devices
Video & Audio devices, Control Boxes, PDUs, Panels, Video Matrix, Extenders...
AV / Video Presentation Switches, perfect for the meeting room environment and remote participants.

Allows for centralized control of devices directly and effortlessly via an iPad, touchpad or control pad.

Compacted intelligent Power sources with network connections, monitor and control your devices power, can be mounted under a desk/meeting table.

PXO-2401CR - Raritan mini PDU

PE4104G - Aten mini PDU

Customisable keypads designed for the Control System, controlling video switches, projectors, lighting, blinds & more.

Video Wall Solutions

Allows multiple HDMI A/V sources to be connected to a single HDMI display

Network AV, HDBaseT, Fiber, CAT 5/6..

Room Booking System - 10.1" RBS Panel
ATEN Streamer Products
CONTENT CREATION: StreamLive & CAMLIVE
CAMLIVE™ is an HDMI UVC Video Capture device to send unencrypted HDMI video to your USB-C / Thunderbolt 3 laptop or smartphone with 1080@60hz

The CAMLIVE™ PRO is designed to easily capture and mix the two connected 4K video sources in FHD format for livestream purpose with outstanding effects and quality.

StreamLive™ HD All-in-one Multi-channel AV Mixer / Streaming encoder.

- Video Converter, Splitter & Audio Mixer

Long distance and cascadeable

Power cameras and more
---

AV Products Range:
Shop by AV Solution:
AV & Matrix, Switches, Extenders, Splitters...
LAN KVM

Add Transmitters and Receivers connected via a standard network switch

ADDER XDIP Range

ATEN KE8900 Range

DVIGEAR DisplayNet Range

LAN KVM

Manageable systems

ADDER | RARITAN | ATEN / DVIGear

AV over-IP devices allow audio and video signals to travel via IP - on the internet

Perfect Control Room Systems

AV Over IP LAN

Add transmitters & Receivers connected via

a standard network switch.

Aten VE-8950 4K Range

DVIGear DisplayNet 4K Range

Control Multiple sources to Multiple displays from a central control point with the ability to route any input to any output or to multiple outputs at any time.

AV Extenders:

VGA ( Analogue )

Transmitter and recievers to extend your Audio & Video signals over Cat5/6 or Fibre allowing connection to travel further distance yet maintaining quality

The ability to select any chosen source to switch onto your display

A range of switches from a variety of manufacturers

Highest grade Video Control, 4K Compatible 1 input 3 Output splitter chassis


An image output / created onto multiple

screens with matrix configuration providing maximum flexibility, Seamless switching

Equipment used to Extend Video signal allowing higher quality conection at greater distance

Equipment that splits or broadcasts video signal from a single input source to multiple output screens

The Selection of your chosen video source to the display, a range of switches from a variety of manufacturers

The Video Wall Switch allows multiple computer monitors / video projectors tiled together contiguously in order to form a single screen

SDI is a one-way, multiplexed protocol designed to carry the highest quality video, audio and metadata over a coaxial cable or fiber

DVI Gear, ADDER, ATEN, Rose,

Services:

Solution and setup design Free for Telephone service.

With the latest broadcast equipment fantastic setups can be achieved with the minimum of disturbance to your site premises and remote IP technology.

Book a Site Survey available for larger systems and solutions for:

CONTROL ROOM

MEETING ROOM

VIDEO NOTICE & ADVERTISING SYSTEMS

CCTV & CAMERA CONTROL SYSTEM

Contact: consultants@kvmchoice.com

UK Onsite Maintenance

For details Contact us

Or Visit: NecesseTech

To find out more about our AV Range search by manufacturer below, or contact us directly...

Call : 0345 899 5010

Email : sales@kvmchoice.com
Shop for 'AV' by Manufacturer:
---
AV by: Raritan

---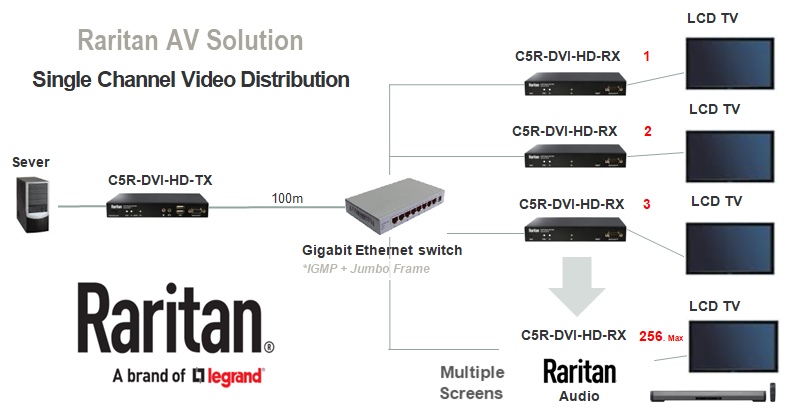 | | |
| --- | --- |
| 4K KVM-over-IP Switch, Ultra HD, HDMI Video, USB Control, Java Free. | The latest Generation of DVI HD KVM Extenders over Cat5. A total 'AV' Solution. |
---
AV by: ATEN International:

---

| | |
| --- | --- |
| Video Wall Solutions, Modular Matrix Switches, Seamless Switches... | HDBaseT, 4K, HDMI, Over IP, Scalable & Flexible digital signage: VE89 Series |
---
AV by: Adder Technology

---


| | |
| --- | --- |
| USB with VGA, DVI or DP, Single or multi-screen options, 2K/4K with True Emulation | Start the system from the (AIM) Adder Infinity Manager - then add transmitters ands receivers across your LAN to produce a managable matrix exceptionally high video quaility and control system. |
---
AV by: Smart-AVI

---
---
Latest 'AV' News
Want to keep updated with the latest News? 'Click here' to find out more...