Free! UK Delivery for all orders over £85. Shop here

Sales tel: 0345 899 5010
KVM Choice: KVM Switch
KVM Switching & KVM Extending

KVM Solutions from KVM Choice:
A KVM Switch is a switch device for the " Keyboard, Video and Mouse " ports of computers allowing a user to control different or additional computers from their same keyboard, monitor/screen and mouse. We offer many KVM solutions. Some models of KVM switch can also switch the connections of Audio ports and Full USB for other devices such as printers and memory sticks. KVM Switches vary from desk units with as little as two PC's or Macs to Data Centre switches with multiple simultaneus users and connection to many servers with the addition of high security SSL KVM remote access over IP User capabilities.

Working from home solutions - CLICK HERE *
SOHO Home/Office User KVM Switches
Business KVM Switches
Enterprise/Corporate/Datacentre KVM Switches
DKX3 (Raritan Over-IP)

DLX2 (Raritan Over-IP)

KN Range (Atens IP KVM)

UIP Range ( Austin Hughes IP )

AVX IP Range ( Adder Technology IP)

Ultra matrix Remote2 ( Rose Electronics R)

Some models with Military Grade IP SSL Secure + built even with additional modem for world-wide access to remote Servers or Data Centres
Other KVM Products
Share a Single PC,

Allow more user's to share the same Computer great for so many applications

Access computers from upto 300 Mtrs away over UTP or Fibre Optic for even futher distances.

KVM Enterprise Management

Managing Access to Multiple IP KVM Switches /

Multiple Site - Central Management Secure access to multiple KVM switches and Servers. Remote KVM management giving easy direct access to all your servers

Matrix Management systems

Rack Management systems

Special offer prices on leading KVM brand Promotions and Manufacturer Clearance.

Grab a bargin while still available.
Related Products & Accessories
All KVM Switches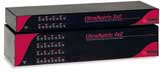 Find a Leading brand KVM Switch with specifications to suit from Home, small business to Professional Datacentres. In order from small to large.
More About KVM Technology
LOCAL
Local remote KVM devices are designed for users to control computer equipment at a personal or direct user console (keyboard, monitor and mouse). Via direct cable connection from the computer to the KVM switch to the console and include support for standard cat cat5 cabling between computers and users interconnected by the switch device.
OVER-IP
KVM over IP devices, capture the video, keyboard, and mouse signals, compress and convert them into packets, and send them over an Ethernet link to a remote console application that unpacks and reconstitutes the dynamic graphical image. These devices allow multiple computers to be controlled globally with the use of an IP (Internet) connection.