DC-Track

DC-Track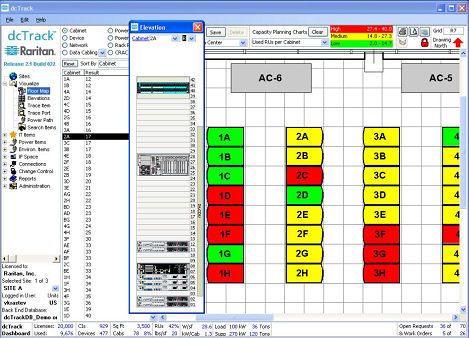 What is dcTrack?
dcTrack is a data center infrastructure management (DCIM) solution that provides powerful and intelligent tools for automation. dcTrack was designed from the ground up by data center professionals to provide you with broad and deep visibility into your operations. It allows you to plan for growth and change by optimizing your current operations, assets and infrastructure.
With dcTrack, you can maintain accurate views across your entire data center, including servers, blades, virtual servers, applications, data networks, IP addressing space and cabling. It also provides real-time views of power consumption and heat dissipation, raised floor space and rack elevations.

Isolating potential problems is fast and easy with dcTrack. End-to-end power and data circuits can be visually and accurately traced while identifying all intermediate circuit points.

dcTrack offers a feature-rich, easy-to-use and intuitive user interface loaded with visualization tools. Significant design effort was directed towards ensuring that all inter-related tasks are executed from a single screen. Built-in intelligence, rules and automation of common tasks greatly enhance the user experience, reducing your workload.

By using dcTrack's workflow and change management, you are better able to enforce best practices across the enterprise and meet ITIL framework guidelines. The result is a single version of the truth of all your data center assets that enables you to direct your finite resources towards proactive management.
Raritan dcTrackTM Software Delivers New Intelligent 'Search, Place and Reserve' Tools to Drastically Simplify Data Center Capacity and Change Management.


dcTrack gathers accurate data by drilling down deep into the infrastructure layers of the data center -- providing valuable information on where best to place servers and devices in racks, as well as how best to provision network, cabling, and power connectivity to those devices. An interactive visualization dashboard delivers accurate, real-time information about facilities, networks and IT, as well as other tools and processes -- which help IT workers make informed capacity management decisions and keep accurate track of data center assets. dcTrack software also monitors, tracks and analyzes the entire power chain, including power loads and environmental data.


Why Choose Sunbird ?

Best Value
dcTrack offers the simplest licensing of any software in its class. It is based only on the power and network ports defined in the system.
dcTrack's licensing model allows anyone from anywhere within the licensee environment to manage any number of data centers.
Fastest and Easiest User Interface
Most common inter-related tasks are performed from one screen.
Creating new items is quick and easy. The integration with AutoCAD® makes creating and positioning of a new cabinet on the floor map fast and easy.
Visualization tools are informative and intuitive for technical users and executives alike.
Finding logical and physical relationships and dependencies are just a few clicks away.
Best Feature-set on the Market Today
dcTrack was designed from the ground up to support modern data centers.
dcTrack is unique in its class for support of virtual servers, blade servers and true IP address space management.
dcTrack is also unique in its ability to track power and sum up loads across all three phases of all power sources.