Aten: shop by manufacturer

ATEN SPECIAL OFFERS : See Bottom of page for * Free Cables Promotion * | Click here | for * HDBaseT Package Solutions *
KVM Choice are officially UK Authorised suppliers of Aten products and our Aten products are warranted for sale and use in the UK, warranties fully supported by Aten UK. Please check the warranty status of low cost imports which may have warranty issues, for details contact Aten UK.
Aten Featured Categories
Kvm, Extenders, Matrix, Console, Video/AV, Splitters, Power...
---

ATEN 'Highlight' Products
HDMI Switches, Crash Cart Adapter, Keypad
True 4K 8-Port HDMI Switch

12-button Keypad (EU, 2 Gang)

4-Port True 4K HDMI Switch

Laptop USB KVM Crash Cart Adapter

Phantom-S Gamepad Emulator:

enhances speed & FPS

HDMI Cable Lock also known as the 'LockPro'

Centralized Management Software provides IT industry teams with a comprehensive solution

Live monitoring and operation backtracking. Control Center Video session Recording
---
Aten KVM Offer: * FREE CABLES * on selected KVM Products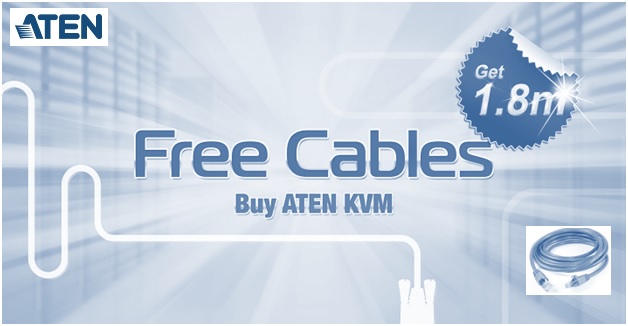 Don't miss out on this fantastic offer to claim for your free KVM cables when purchasing ATEN Rack KVM LCD Console or KVM LCD Switch from KVM Choice, To qualify to receive free KVM cables, select one of the available KVM consoles or KVM Switches.
---

Selected Products Include:
Kvm Switches and Kvm LCD Consoles
FREE 1.8 meter KVM cables when bought with any of the products listed above | Terms and conditions may apply | More Info @ ATEN |
ATEN SPECIAL 'VM' BUNDLE
HDBaseT Package Solutions