PDUeX-SW-16A-08HF PDUeXpert Rack PDU 1U 16A 230V IEC320 C20 Inlet (8) Type French F Schuko Outlets. IP Switched Series, Horizontal 19" ( PDUeX-SWH-16A-08F )
PDUeXpert Switching PDU 8 Port Horizontal showing the C13 Outlet version. The 8 Port Switch PDU with 8 x Schuko would be similar but with the Schuko Type F Outlets.



Description:
8 Port Switch PDU with 8 x Schuko Type F Outlets. SPECIAL ORDER PART PDUeXpert Switched PDU Series is an intelligent PDU solution that combines remote configuration and management with power distribution, and environmental monitoring. With PDUeXpertSwitched PDU Series you can: · Reboot server with one command · Receive SNMP alerts when power or environmental conditions exceed thresholds · Allocate users specific access rights to selected outlets or groups · Obtain detailed power information to get better uptime and productivity, improve capacity planning through power consumption information for both the PDU and individual port. Information provided by the TRiPower Switched PDU is displayed at the strip via Digital True RMS Current Meter LED display, and remotely via a Web browser. PDUeXpert Switched PDU products give the necessary flexibility for all datacenters, comms rooms and remote sites; and protocols such as: HTTP, HTTPS, SNMP, DHCP, UDP. PDUeXpert Switched PDU offers secure access with SSL encryption and strong passwords. TRiPower Switched PDU comes with FREE OF CHARGE TRiPower PDU Management Software. This gives managers of datacenters the capacity to manage a large installation of PDUeXpert PDU from one single (web) interface.
Features:
> Power Monitor; Total Power Monitoring
> Protocols; Http, Https, SNMP, DHCP, UDP
> Alarm Thresholds; User-Defined Alarm Thresholds for Warning and Overload
> Event Alerts; Email, Trap, Audible Alarm
> Temp/Humidity; Per Model
> Approvals; CE, RoHS, UL Listed




- Current Meter Digital True RMS Current Meter
- Power Monitoring Remote - Total Power Monitoring by Meter, Web, SNMP
- Free TRiP PDU Management Software
- Protocols Http, Https, SNMP, DHCP,UDP
- Outlet Control Individual Outlet Control
- Power Delay Power on/off Sequence can be Defined
- Alarm Thresholds User Defined Alarm Thresholds for Warning and Overload
- Event Alert Email, Trap, Audible Alarm
Switching PDU Control screens example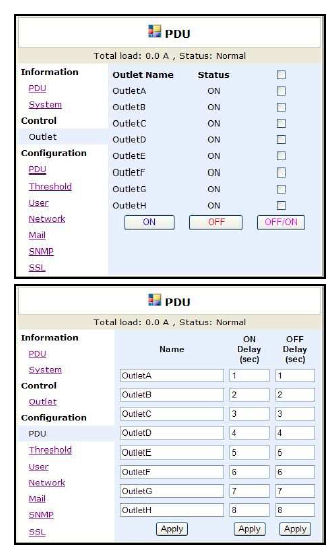 Specification:
GENERAL SPECIFICATION
Output (8)Type F FRENCH Schuko Outlets
Input (1) IEC320 C20 Inlet
Protection 1 Circuit Breaker
COMMUNICATION
SSL Indication (1) Yellow LED
DHCP Indication (1) Green LED
Output Status (8) Green LED
Network (1) RJ45 for Ethernet
Current Meter 3 Digits Seven Segments for True RMS Meter
Range: 0A ~ 20 A
Resolution: 0.1A
Precision: +/-2%+/-0.1AMP
OPERATION
Nominal Voltage 230V / 400V
Voltage 200V~240 / 400V full range
Frequency 50/60HZ full range
Max.Output Current 16 Amp
Temperature 0~40 Celsius degree
Humidity 0~90%
Size 90 x 432 x 44 mm
Weight 3 Kg
Regulatory
Approvals
UL 60950-1, UL Listed, CSA, cUL Listed, CB by UL
CE, EN 55022 Class A, EN 55024,EN 61000-3-2,EN
61000-3-3 C-Tick AS/NZS CISPR 22: 2006