Adder ALIF2112T-IEC AdderLink Infinity 2 transmitter only with integrated VNC Server Dual. Anti Dither DVI Digital Video Transmitter. DVI Video & USB Control Extending and switching over UTP or Fibre Gigabit Network unit.
ALIF2112T Infinity Dual Transmitter TX Unit,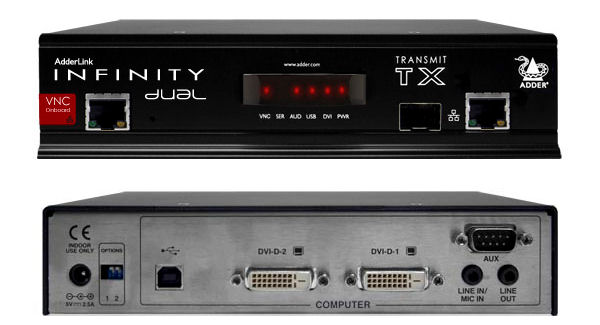 Description:
AdderLink Infinity Dual with integrated VNC Server. Transmitter only. AdderLink INFINITY dual VNC a high performance KVM server that can be accessed remotely via IP with a VNC viewer and / or simultaneously with an AdderLink Infinity receiver. The VNC Server in ADDERLinks INFINITY dual allows you the addition of external remote access to build a flexible infrastructure, the likes of which have not been possible before. Locate computers anywhere you like, share connections to computers, watch the interactions others have with computers, share control, collaborate, switch computers, and so on. VNC Server in ADDERLink INFINITY dual Hardware compatibility. Allows Remote WAN access VIA VNC Remote Access. This version Infinity can be used as a KVM Over IP Gateway. VNC Functions: VM Support Serial Control Up to 16 simultaneous viewers. Please note for the VNC functions you must use this model other Range models cannot be field upgraded into a VNC Equiped version. Enhanced version Transmitter with Anti Dither for particularly usful for use with Apple Video. The next addition to the ADDERLink INFINITY digital KVM matrix range. Pure digital media extension over IP featuring dual head & dual link video The ADDERLink INFINITY range is also the first of its kind to allow multicasting across your network. The ADDERLink INFINITY dual interfaces USB peripherals such as the keyboard, mouse or graphics tablet, together with DVI for the video display, over a layer 3, standard gigabit ethernet network, on copper or fiber.
Features:
Its base feature set is the same as the AdderLink Infinity dual with the addition of:

View 2560x1600 or two 1920x1200 sessions
Real VNC server with RFP 3.3 support
Up to 256bit AES and RSA 2048 encryption
VM support and RS232 for power control
Supports 16 users simultaneously
Out of band Bios level access
Compatible with AdderLink Infinity Matrix


Dual Link DVI - Dual Head DVI - Dual IP Carrier Type (copper & fiber)

Fully compatible with the ADDERLink INFINITY Matrix range.
Remote monitoring, Remote Control, Remote maintenance

View and access your computers remotely, out of band without the need to install software.
High video performance over VNC

The VNC server can be accessed by a standard web browser but for superior graphical performance,a Real VNC viewer should be used . Free of the limitations of HTTPS, Real VNC greatly enhances video performance. The unit serves pixel perfect video up to 24 bits per colour at a maximum of 2560x1600 or two at 1920x1200. RFP3.3 is supported for open source viewers.

Ideal for control rooms

The unit can simultaneously serve a VNC equipped video wall processor and an AdderLink Infinity equipped user station reducing the complexity of control room infrastructure.
Highly secure

Employing enterprise grade security (using AES 256 bit encryption and RSA 2048 bit public key authentication) as standard, the unit is further enhanced by the use of Real VNC that allows for the creation of ciphered user communications.
USB and Virtual media support

To transfer files from remote users to controlled computers, system has been engineered to act as a conduit through which data can be passed. Files can be transferred via IP onto the AdderLink Infinity dual and onto the target computer by means of a USB virtual media port.
Power control through RS232 serial interface

The unit has an RS232 port to allow communication to devices like power switches, allowing remote re-booting of the target computer.
User management

On the VNC server, you can create up to 16 user profiles with defined access rights. The unit can be accessed by up to 16 users at any one time.
Digital KVM Matrix

By the addition of AdderLink Infinity management system (A.I.M.) you can turn multiple point to point extenders into a matrix system that allows any workstation to connect to any computer connected to the network. See the A.I.M. data sheet for details



Specification:
VNC Server in ADDERLink INFINITY dual Hardware compatibility.
Transmitter only


( Please note the Anti Dither feature is not supported over VNC )


Allows Remote WAN access VIA VNC Remote Access. This version Infinity can be used as a KVM Over IP Gateway.

VNC Functions:
VM Support
Serial Control
Up to 16 simultaneous viewers.

Please note for the VNC functions you must use this model other Range models cannot be field upgraded into a VNC Equiped version.



All computers with DVI (inc. dual head and dual link), USB, Audio, RS232 - requirement dependent
Software compatibility

All known operating systems
Computer connections Transmitter (Tx)

DVI-D x 2, Audio 3.5mm in, Audio 3.5mm out, USB type B, RS232 9 pin D-Type, SFP slot
Computer connections Receiver (Rx)

Video: DVI-D x 2, Audio 3.5mm in, Audio 3.5mm out, USB type A x 4, RS232 9 pin D-Type, SFP slot
Physical design

1U compact case, robust metal construction. 198mm/7.92" (w), 44mm/1.76" (h), 150mm/6" (d), 1.1kg/2.7lbs.
Power

2.5mm DC jack (power adapter included),100-240VAC 50/60Hz, 0.4A, input to power adapter, 5VDC 12.5W output from power adapter
Operating temperature

0 to 40 deg C / 32 to 104 deg F
Approvals

CE, FCC
Additional Accessories

SFP Fiber module: single mode
SFP Fiber module: Multimode
Fiber Patch cables: Single mode/Multimode
Rackmount Options

RMK-4S: 1 unit per 1U 19 inch
RMK-4D: 2 units per 1U 19 inch
RMK-4V: VESA mount, can also be used to secure to walls/surfaces


Order Codes

ALIF2002P-xx (pair - Receiver & Transmitter)
ALIF2002T-xx (transmitter only)
ALIF2000R-xx (receiver only)

xx= Mains Lead Country Code:
UK = United Kingdom
US = United States
EURO = Europe
AUS = Australia