Search Results:

Showing 1 to 1 , from a total of 1
PSU-1GUARD-UK ePower Switch 1 Guard UK– Power management and supervision of IP devices. IP Access single power unit SPECIAL ORDER PRODUCT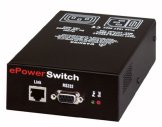 Enable the remote power control of one device over the Internet, Intranet, or locally through a serial RS232 connection.

PERFECT FOR MULTIPLE SITE APPLICATIONS - CALL US...
Search Results: Showing 1 to 1 , from a total of 1