Free! UK Delivery for all orders over £85. Shop here

Sales tel: 0345 899 5010
Raritan: SmartSensors
---
SmartSensor™ Environmental Monitoring Solution

---

(Please Note: All Raritan Power Products are POA). Contact us for details.
Data Center Environmental Sensors:
Raritan's sensors are deployed as plug-and-play options for PX intelligent rack PDUs, EMX rack controllers, PX inline meters and branch circuit monitors eliminating the need for a separate controller. Environment data is instantly sent to a DCIM software solution. A simple web-based interface allows data center managers to see real-time environment data and report trends over time. Raritan environment sensors enable you to:
Ensure uptime by monitoring racks for potential hot spots.
Save on cooling by confidently raising data center temperatures.
Maintain cabinet security with contact closure sensors.
Improve data center availability by receiving environment alerts.
Make strategic decisions on cooling design and containment.
Set thresholds and alerts to monitor onsite or remote facilities.
Learn more about other advanced rack monitoring solutions for maintaining uptime.
Environmental Monitoring:





Temperature Temperature & Humidity Dual Temp & Humidity Tri Temp & Humidity KIT
Airflow Differential Air Pressure Water Floor Rope Water
Physical Access & Security:

Active Contact Contact Closure Proximity & Motion
Specialised Sensors Sensor Hubs & Accessories

Vibration Sensor Sensor Hub Remote Hub
Raritan: SmartSensors For Your Data Centre...
Total coverage for full peace of mind.
---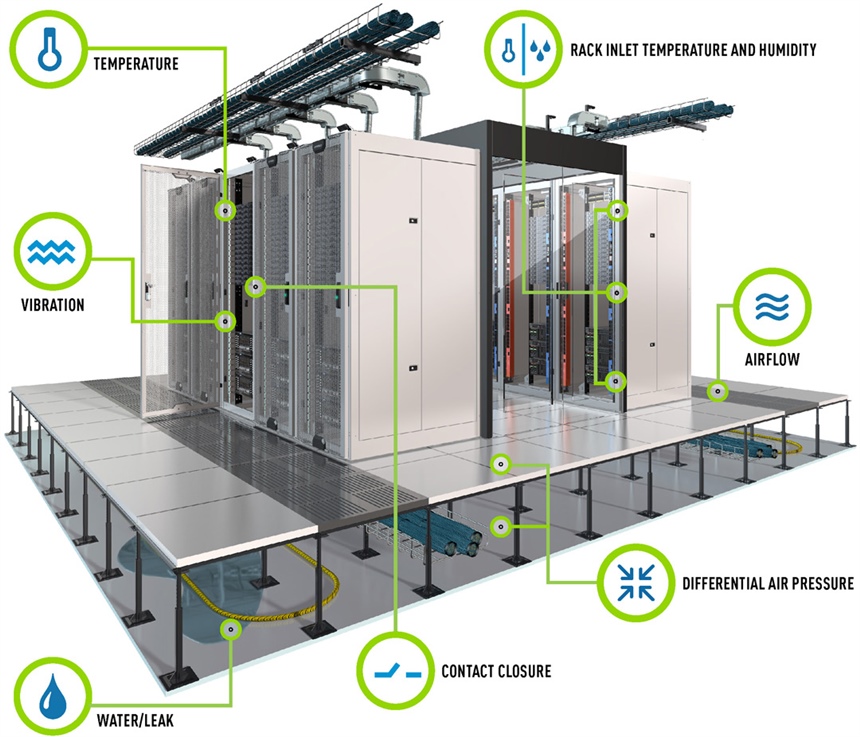 Highly Accurate Environment Monitoring:
The sensors benefit from the latest, most high-tech metering components, and delivers the highest metering accuracy at +/- 0.5°C for temperature sensors, +/- 5% for relative humidity.
Easy to Deploy within Existing IT Infrastructures
SmartSensors are plug-and-play ready with Raritan's PX intelligent rack PDUs, smart rack controllers, inline meters, rack transfer switches, and branch circuit monitors making it incredibly easy to install and deploy quickly without disrupting operations.
Built to Last and Easily Maintained
SmartSensors feature RJ45 connectors with removable sensor heads making it easy to facilitate deployment and connection to existing racks. The RJ45 sensor head allows you to disconnect and reconnect the sensor without having to rewire the rack, saving on maintenance costs.
Support for Customizable Configuration with Single Bus/String Technology
Offering the highest flexibility of deployment, SmartSensors can be cascaded in single bus structure to instrument entire rows of your data center with different types of sensors. Cascaded sensors are linked with standard CAT5/6 cables and connected through a sensor port on a control device to ensure comprehensive measurement and monitoring.