Free! UK Delivery for all orders over £50. Shop here

Sales tel: 0845 899 5010
DOMINION® KX III
---
"JAVA FREE" High Performance KVM-over-IP Switch
---

The Dominion KX III is Raritan's flagship, enterprise-class KVM-over-IP switch that provides 1, 2, 4 or 8 users with BIOS-level, remote management upto 64 servers in a single switch. With industry leading video performance, security, and reliability, the Dominion KX III outperforms competition.
With standard features such as DVI/HDMI/DisplayPort digital video, VGA analog video, virtual media, audio, smart card/CAC, and mobile access, the Dominion KX III is suitable for both general computer and dynamic broadcast applications. Manage up to 8 serial devices with the new DSAM modules. New KX III Client SDK and API to integrate and automate.
KX III is ideal for Server Rooms, Test Labs, and the Largest Enterprise Data Centers. It offers high performance, Java-free, remote management of servers, workstations and serial devices. Deploy individually, or with Raritan's CommandCenter Secure Gateway. For broadcast, control rooms, labs and studios, the new KX III User Station provides high-performance, KVM-over-IP access in a self-contained, low-maintenance appliance.
Its productive user interface supports two 1080p video sessions at 30 FPS with low latency, simultaneous access to eight or more servers, dual monitors, audio and virtual media. The User Station now integrates with CommandCenter to support centralized login and access for large deployments.
Features
Java-Free Virtual Media Each Dominion KX III comes equipped with virtual media to enable remote tasks, such as software installation, remote booting and diagnostics, using the widest variety of CD, DVD, USB, internal and remote drives and images. Support of virtual media and audio.
Remote BIOS-Level Access Dominion KX III has the industry's highest performing and most flexible KVM-over-IP technology. Users can access Dominion KX III from LAN, WAN, Internet, mobile & dial-up, allowing admins BIOS-level access to troubleshoot, reconfigure, reboot and power cycle.
Blazing, High Performance Video and Audio 30 fps, 1080p or 1920x1200 video-over-IP for broadcast and other video-intensive applications. Get ultra-fast connections and switching with the DKX3-808 model. High performance User Station now available for lab, studio or control room use!
Military Grade Security With Raritan's Dominion KX III, you can meet government and military security mandates, including: AES & FIPS 140-2 encryption, Common Access Card (CAC) authentication, and IPv6 networking.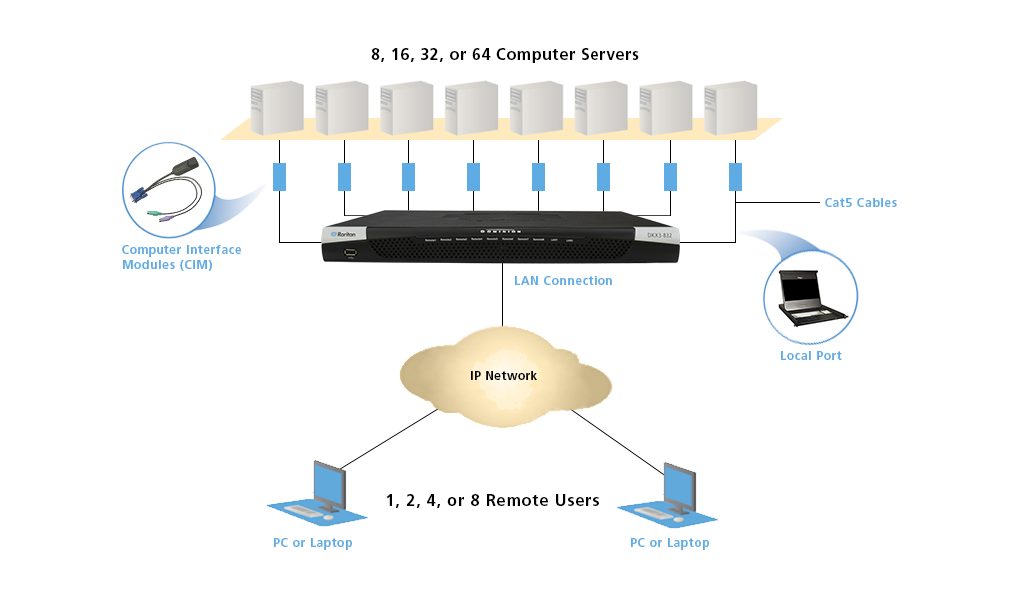 Dominion KX III has three software-based KVM-over-IP Clients: AKC, HKC, and VKC. Users interact with these Clients to access and control remote servers. AKC is a full-featured, Java-free Client, used on Windows.
HKC is our new, Java-free, browser-based Client for Linux and Mac platforms. VKC is the original full-featured, Java-based KVM Client for all platforms. The KX III User Station provides high-performance, KVM-over-IP access for broadcast, control rooms and studios. This Linux-based, hardware appliance supports two 1080p video sessions at 30FPS with 50ms latency.