Free! UK Delivery for all orders over £50. Shop here

Sales tel: 0845 899 5010
Legrand: PDU / Power Distribution Units
---

"Power Solutions For Any Configuration"
---

This new Legrand PDU offer combines Legrand's quality and innovation with a wide range of applications. A standalone solution, this range integrates seamlessly into any installation ensuring compliance with applicable standard and expert quality.
A major addition to the range and exclusive to Legrand, C13 and C19 outlets have a power supply cord locking system which prevents accidental disconnection and guarantees absolute safety alone side the dual MCB protected circuits.
'10' 1-U Legrand PDU Small IT environments: mainly used in small-scale commercial applications where there is a limited number of IT points and a 10'' cabinet is sufficient: - Small businesses, freelance professions, administrative services, etc.
'19' 1-U Legrand PDU Data centers, server rooms, and computer rooms: used in server and cabling cabinets where: - there is a low density of active equipment To be powered - ease of installation is an advantage.
Features

330° rotating cable entry for perfect orientation of the cable and no interference in the cabinet.
Circuits protected by MCB. Holder with projecting edges to avoid unintended operation (a cover can be added on request).
Circuits are colour-coded, clearly visible on the front panel & along the edges of a module. The colour corresponds to the specific MCB circuit.
Consumption is measured to provide better installation management: • Balancing circuits • Displaying available capacity • Overload prevention
Specification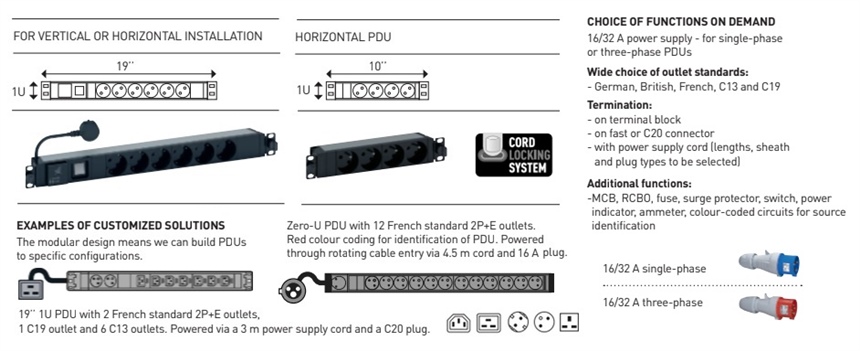 Additional Information
Legrand power distribution units and Rack PDU's allow metering and data center managers to monitor power in real-time to avoid downtime brought on by overloaded circuits, and to efficiently utilize power resources. Legrand's PDUs are equipped with an ammeter. The 1-U Legrand PDU ammeter can be rotated 90° to ensure easy reading regardless of mounting position (horizontal or vertical) there are a few additional options listed below.
0U Legrand PDUs simply clip vertically into slots on the mounting frame without the need for any screws.
'10' Legrand PDU's Specially designed for local area networks, these PDUs feature the same innovations as 19'' range.
The ammeter can be rotated 90° to ensure easy reading regardless of mounting position (horizontal or vertical).
Additional extra: Locking caps are used to lock access to a socket. A special key is required to unlock it.
Additional extra: Surge protection module protects equipment against overvoltages and incorporates hot swap technology.
View Legrand "PDU Range " | View Legrand "Data Sheet" | Assistance and Guidance available call: 0845 899 5010