CS1953 - ATEN - 3 Port USB-C KVM Switch, DisplayPort Hybrid KVMP™ 4096x2160 (4K) @60Hz, Desktop KVM Switch *NEW*
CS1953 (DisplayPort Desktop KVM with USB-C) pmks0123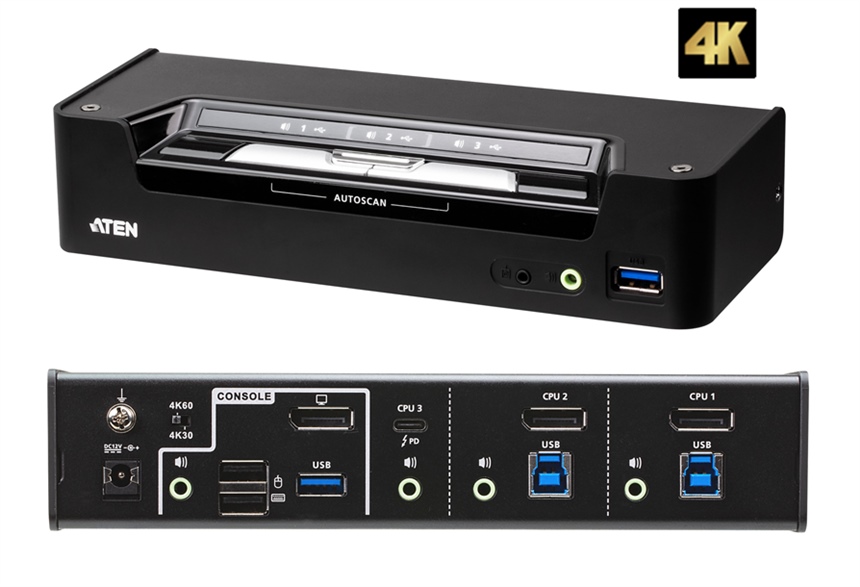 Description:
The CS1953, the industry's first 3-port USB-C DisplayPort Hybrid KVMP™ Switch, carries out ergonomic desktop style with the power of a KVM and the popularity of USB-C connectivity to facilitate professional and commercial workstation applications with better mobility, so as to enhance total desktop productivity. With the DisplayPort monitor set up on your desktop and access to up to two PCs via DisplayPort and a laptop (or other mobile device) via USB-C, you can expect a rich experience with outstanding 4K visual clarity, as well as fast switching between multiple computers and mobile flexibility.
Features:
• One USB keyboard, mouse and one DisplayPort monitor control two DisplayPort computers, one USB-C device and share two USB peripherals
• Supports superior video quality – up to 4K DCI (4096 x 2160 @ 60Hz)
• Provides USB Power Delivery 3.0 for USB-C device charging up to 45W1
• Computer selection via pushbuttons, hotkeys, mouse2, and remote port selector
• Built-in 2-port USB 3.1 Gen 1 hub with SuperSpeed 5 Gbps data transfer rates
• Supports DisplayPort Alternate Mode (DP Alt Mode) which enables the USB connection to carry DisplayPort signals
• Independent switching of KVM, USB peripheral, and audio focus3
• DisplayPort 1.2 compliant; HDCP 1.4 compliant
• Supports HD Audio3
• Supports DisplayPort Dual-Mode technology (DP++)4
• Firmware upgradeable
• Bus-powered5
Specification:
Computer Connections 3
Port Selection Hotkey, Pushbutton, Mouse, Remote Port Selector

Connectors:

Console Ports 2 x USB Type A Female
1 x DisplayPort Female (Black)
2 x 3.5mm Audio Jack Female (Green; 1 x front, 1 x rear)
KVM (Computer) Ports CPU1 and CPU2:
2 x USB3.1 Gen1 Type B Female (Blue)
2 x DisplayPort Female (Black)
2 x 3.5mm Audio Jack Female (Green)
CPU3:
1 x USB Type-C Female (Black)
1 x 3.5mm Audio Jack Female (Green)
Remote Port Selector 1 x 2.5mm Audio Jack Female (Black)
Power 1 x DC Jack
USB Hub 2 x USB3.1 Gen1 Type A Female (Blue; 1 x front, 1 x rear)

Switches:

Selected 3 x Pushbutton
Mode Switch 1 x Slide Switch

LEDs:

Audio 3 (Green)
KVM 3 (Orange)
USB 3 (Green)
Emulation
Keyboard / Mouse USB
Video 4096 x 2160 @ 60Hz
Scan Interval 1-99 Seconds (Default: 5 sec.)
Power Consumption DC12V:5.78W:269BTU

Environmental:

Operating Temperature 0-40°C
Storage Temperature -20-60°C
Humidity 0-80% RH, Non-condensing

Physical Properties:

Housing Metal, Plastic
Weight 0.50 kg ( 1.1 lb )
Dimensions (L x W x H) 20.63 x 7.54 x 4.40 cm
(8.12 x 2.97 x 1.73 in.)

Note - For some of rack mount products, please note that the standard physical dimensions of WxDxH are expressed using a LxWxH format.