Search Results:

Showing 1 to 1 , from a total of 1
Adder ALIF2112T-IEC AdderLink Infinity 2 transmitter only with integrated VNC Server Dual. Anti Dither DVI Digital Video Transmitter. DVI Video & USB Control Extending and switching over UTP or Fibre Gigabit Network unit.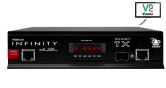 AdderLink Infinity Dual with integrated VNC Server. Transmitter only.

AdderLink INFINITY dual VNC a high performance KVM server that can be accessed remotely via IP with...
Search Results: Showing 1 to 1 , from a total of 1